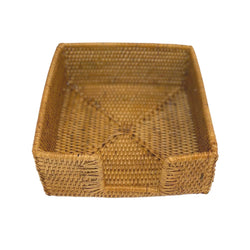 POPPY + SAGE
Cocktail Napkin Holder
- Created from beautiful rattan, woven into the square shape to hold your prettiest cocktail napkins! Indoor/outdoor use.
- Handmade in Bali.
- 6" x 6" x 2.5"
Handmade Artisan Home Goods
All of our rattan straw items are handwoven by individual artisans. Due to the fact that each rattan straw items are handmade, the products may vary slightly from the online image. The woven pattern is unique to every item, this is what makes each POPPY + SAGE handwoven product such a special treasure knowing your item is truly one-of-a-kind!
Care Instructions
Lightly wipe woven rattan with damp soft cloth (no soap).  If a piece of rattan turns outward, trim with small fingernail scissors to avoid potential snags.