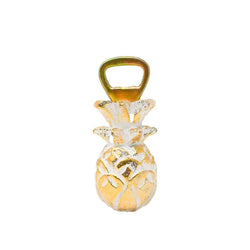 POPPY + SAGE
PINEAPPLE BOTTLE OPENER
Beautiful handmade Pineapple Bottle Opener! 
Made of wood, handpainted in a color and finished with gold or silver paint. 
The Pineapple is a symbol of hospitality around the world, and this is a beautiful representation of that hospitality you can spread when hosting friends and family for good cheer and great drinks
Handmade by talented women artisans in Bali, and sustainably sourced with care. 
 5.25" x 2" x 2"